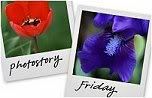 Hosted by Cecily and Izzy 'N Emmy
"Sparkle," my daughter, doesn't get to have kitty cats. Blame me. I've been known to be allergic not just to cats but to pretty much everything in the above photograph. When I was her age, I used to be pretty mad about this.
But our friend, Anastasia, started to take "Sparkle"  to a special place this summer. We call it simply "The Barn."
"Sparkle" started riding lessons. Here she grooms a horse named Sam.
One day last week, I tagged along and took lots of pictures.
Her instructor is  a nice person named Jennifer. She owns "The Barn." .
This looks like flying, or something I once did in a dream.
On the drive home we are all high from a morning well spent. Girly giddiness. Sun. Peace. Cows. Horses. Happy dogs and bright flowers.
"I didn't sneeze once – even inside the barn," I say perhaps a bit too brazenly.
Anastasia swings her head  towards me; "Sparkle" leans forward in the back  seat. Evaluating. We know we are all thinking the same thing.
"Well next week we'll have to all go out to "The Barn" for our lessons at the same time,"says Anastasia.
The three of us play for a few minutes with this foreign concept of me taking riding lessons. It suddenly didn't feel quite so foreign.
One day at "The Barn" at a time.